Re: WiTcHeS
Christopher! How in Gawds name did I miss that?! Flicking Boogers! OMG! I would love to have seen her act! Aweful Olga is a dear! She is so amazing! BOth my boys are extatic and think we should have one...I think they are right! The tongue just kills me! She trully looks like something from MacBeth! Great Job! Do you bring her out every Halloween? This is not something I would keep put away...My husband would...but I wouldn't...but he's ascared of them...and I'm not!
Thank you for trying to look at my Kitchen witch! I will most assuredly post her! Proud To!
This is my first Witch-Alma Mae Strega...she is my favorite
My 3rd...Judy B.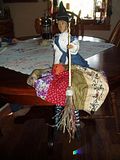 My Inspiration for all things witchy...My favorite childhood book o'course!I am also studying to become an herbalist, so I love the folklore that goes along with that!