I've not been able to get on line for a few days and I see I've fallen behind. Will have to catch up!
A friend of mine had to toss a silver salmon to appease a bear that was waaaay too close to us and closing the distance fast. This was up on Kodiak Island a couple years ago. I decided to carve him a replacement salmon.
Here's what I've got so far. I also have the wood carved, pretty much completely, where the fish will attach to the mount. I still need to carve the base. I think it will be a blend of heartwood/sapwood stream rock. The wood is black walnut. The grain was pretty swirly and I couldn't predict exactly how it would align with the fish body when cut. So, I took what I got. The left side of the fish is pretty wild.
I just put the fins on today so it looks like a fish. I will get on with correcting my errors (and my unhappy spots) as best I can. For instance the adipose fin has to go. Will carve a better shape for the new and will use heartwood. Don't know why I used sapwood in the first place...very out of place on the dark dorsal side of the fish.
Anyhow...here's what he looks like at the moment.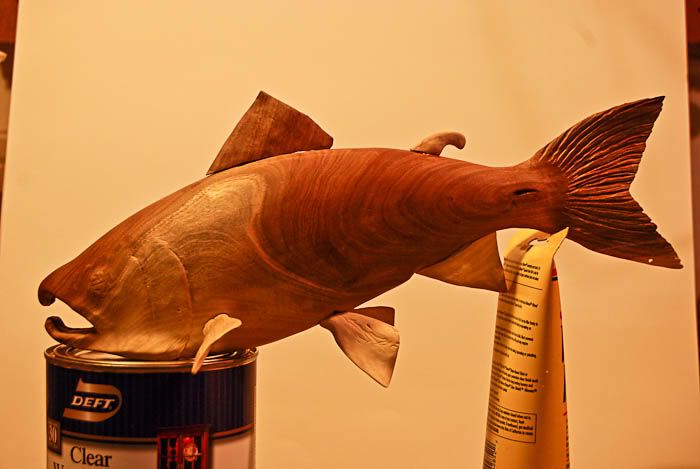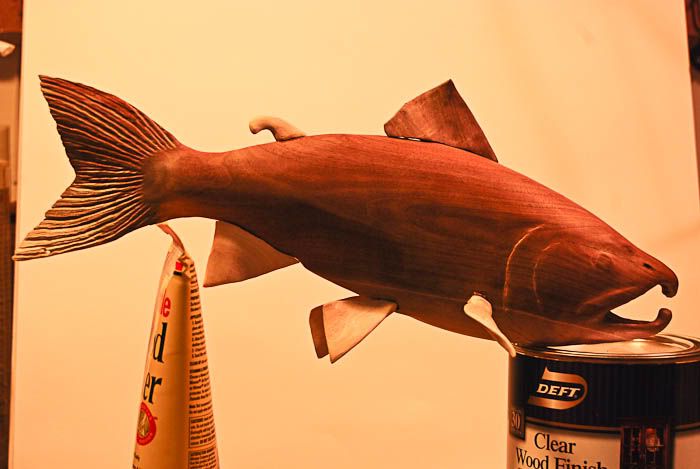 The finish will, of course, be a natural finish to show off the wood grain. I guess this fits in the "interpretive" style of carving/finishing.