I carved a couple of Brown Trout this winter. The first one, which includes some WIP pics of the one I am currently working on, is shown in a thread some pages back from this one.
I had to set aside the second Brown to work on some birds (Burrowing Owl and California Quail). But, I'm back on him now.
The base is completed now and I can post a couple of pics. The mounting branch and rocks are constructed similar to the first brown carving...different, but similar. The base is Spalted Paper Birch from northern Minnesota. The Cottonwood leaves are made from brass sheeting and copper wire. I thickened the copper wire stems near their base by dabbing on some thin super glue and dipping into baking powder. I then shaped that a bit by sanding.
Where the fish is mounted to the branch, used three brass rods to overcome the twisting pressure caused by the long body of the fish out front. I have some other process pics if anyone is interested in details.
Anyhow, here's the fish temporarily mounted. None of the base parts are attached at this point. The branch is screwed in by three long deck screws up through the base, but not also glued at this point. I was trying various arrangements of the leaves.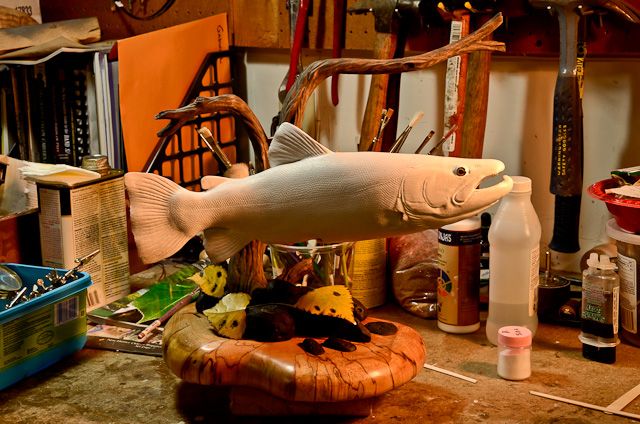 This is what I settled on. At this point all the rocks and stem are locked into place with 5-min epoxy and brass rods or screws respectively. The leaves are super glued to the rocks.