I'm working on a Belted Kingfisher for a friend right now. I'm well along but, as usual...much left to do.
I thought you might be interested in a facet of the process. Nothing revolutionary, but it involves clay modeling on a small scale. I am more convinced that I don't use clay enough to work out details of the bird before beginning on the wood. However, this time I used some clay modeling of the perch branch to work out shapes of my branch segments.
Here's the overall look so you can see the branch with its 3 segments. The bottom segment has been rough carved.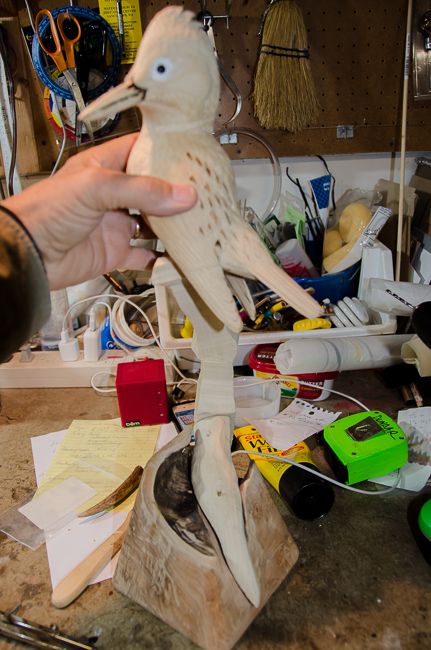 The segments are hot glued together at this point so I can rough carve before final glue up. For information, I am past this point and have glued up the segments (2 brass rods in each joint going into the adjoining surfaces). I use 5-min epoxy for the glue. After that sets I come back to each joint and grind out a groove, smooth the edges up and down from the groove and fill with bondo. That way I get a pretty seamless and strong joining of the segments.
Here's a pic with all three segments rough carved and I've drilled the holes in the branch and the bird so I can set him up on his "feet" for a pic. I confess to using pewter toes on this guy.
Back to the clay... I got excited about the base, which is cut from a larger piece of Bigleaf Maple burl. I positioned the cuts to leave a up/down, left to right "gully" in the base block. See the pic.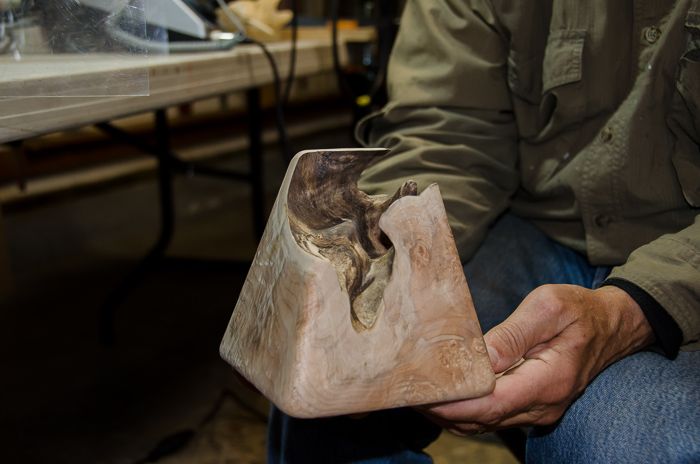 Getting the complex shape of the bottom segment for cutting out a piece of wood made me think of the clay. I just took some and "molded" it into the gully. From that clay shape I could sketch a rough pattern on my scrap wood and get a decent cutout on the band saw. Here's a pic showing the clay model and the wood product after rough shaping for the gully.
I've run out of allowance for photos so I will finish in the next "reply".