Hello everyone! This is my first post so I figured I would introduce myself and share the adventure of my first (almost) completed carving.
My name is Chris. I'm a Virgo and like long walks on the beach. Wait, wrong site. I'm 36, from Kansas City, MO and have wanted to start carving for several years now. I actually started a project several years ago using a really crappy set of gouges I found in my grandfather's basement but it was WAY too ambitious for a new carver so I got discouraged and stopped for quite a while. A couple of years ago I decided that I wanted to get into it again so I purchased a Flexcut deluxe palm set, got several 2" thick boards of basswood, and set about another ambitious project I found in a book of patterns. Yeah, that turned out about as well as my first project so I quit for another couple years (I'm noticing a disturbing trend...).
Flash forward to July, 2015. My father-in-law (Chuck) found out he had a golf-ball sized mass in his brain. It was a scary time for everyone, especially Chuck. During the next few months he went through chemo, radiation, and a lot of uncertainty. In looking for comfort he decided to go to church (for the first time in 30+ years) with my wife and I and I don't think he has missed more than a couple of Sunday's since. So to get back into carving I went online and found an image of a cross I liked and decided to carve them a gift. Here is my journey. As you will see at the end I still have some work to do thanks to some stupidity on my part.
Here is the first picture I took after starting the roughing out process. Not a bad start. And I stuck with it for more than a couple of days!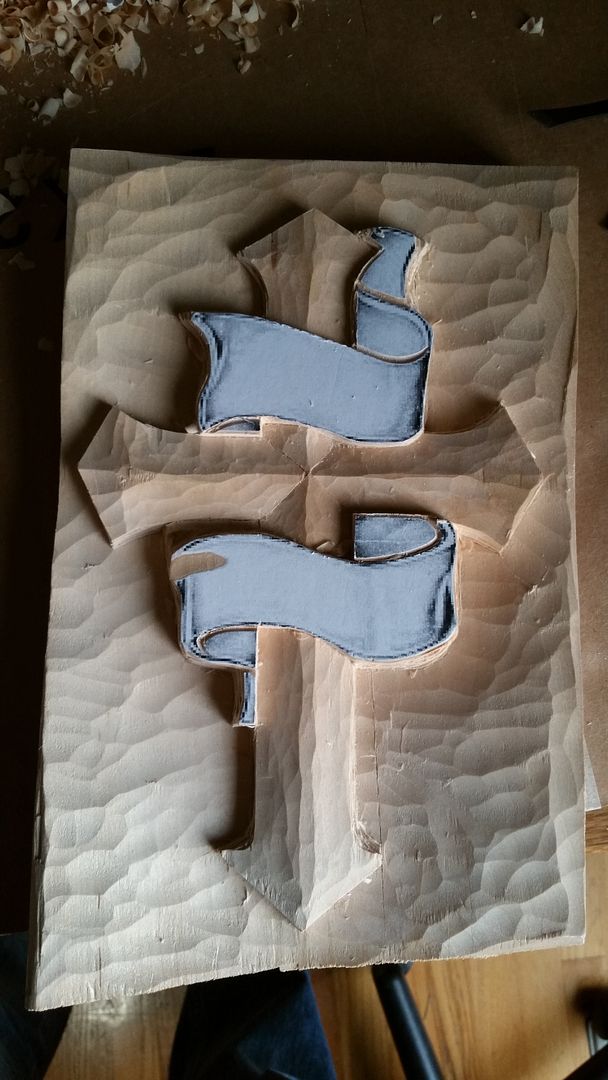 A little further in. I removed the termination from the bottom of the ribbon because my wife didn't like how it was turning out (and my gouge slipped).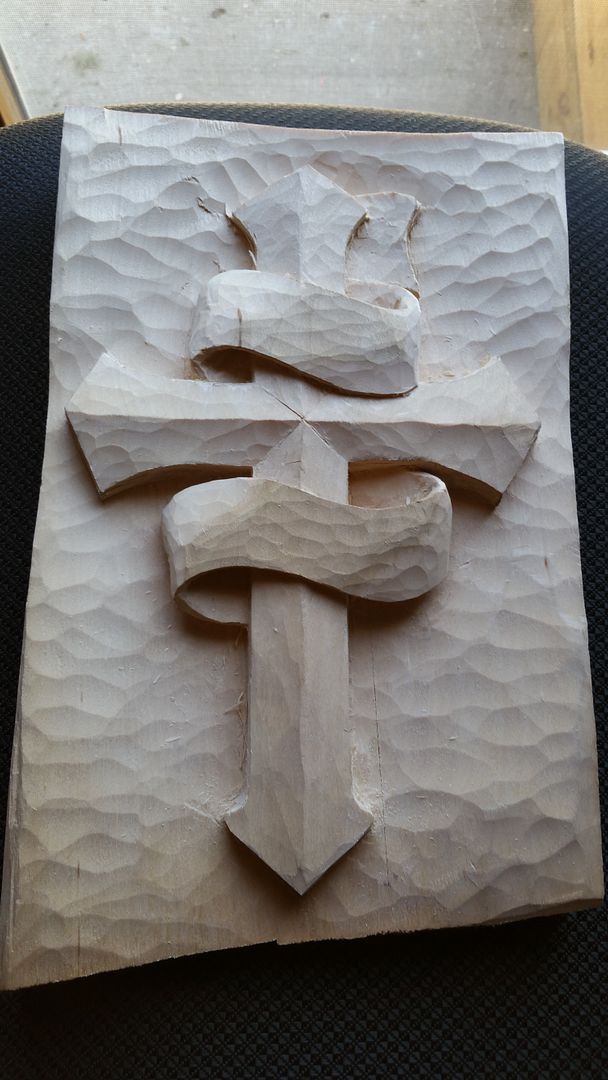 Almost there! Really pleased with how it is going so far. Just some final cleaning up and a bit more sanding on the ribbon and I'll be ready for stain.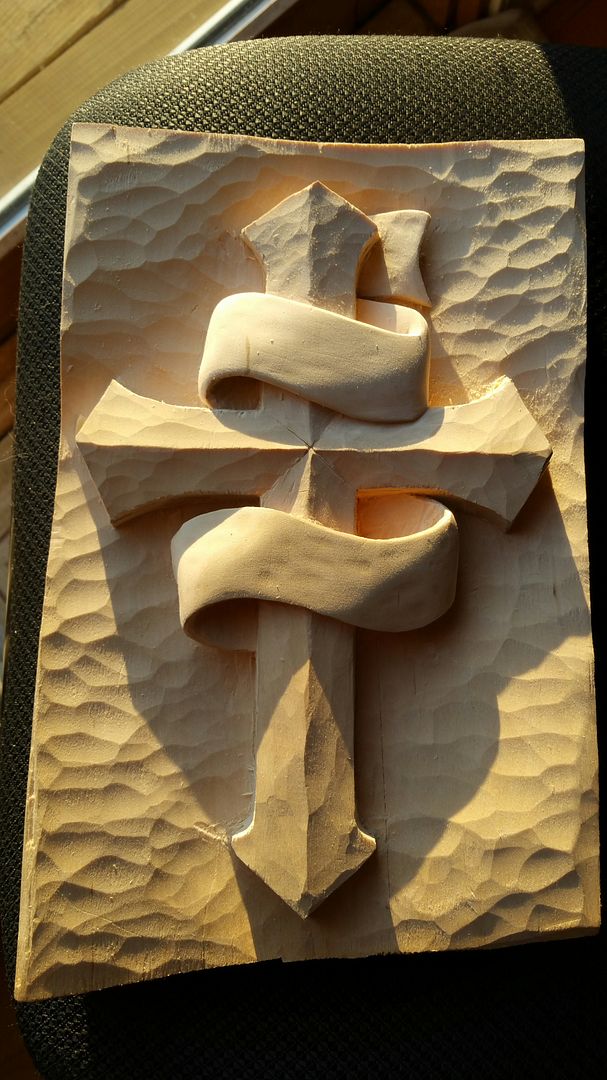 And here's where I cried a bit. Finished the carving process and decided to go to Home Depot with the wife and pick out a stain. Saw several samples there and we decided on Minwax Early American. It didn't seem too dark and was a pleasing color on the sample (with "on the sample" being the key phrase). Tested it on a scrap piece of bass wood and it looked good! On to the carving. I knew I had made a BAD mistake the instant the stain touched it. The wood almost DRANK the stain. Sucked it right up. And turned BROWN! At that point I had committed and finished staining the piece hoping it would mellow out some as it dried. It didn't. So I cursed and threw things and woke up the wife and kids with my little temper tantrum (not really true, the kids slept through it and the wife was still awake, but I digress). Here is the damage.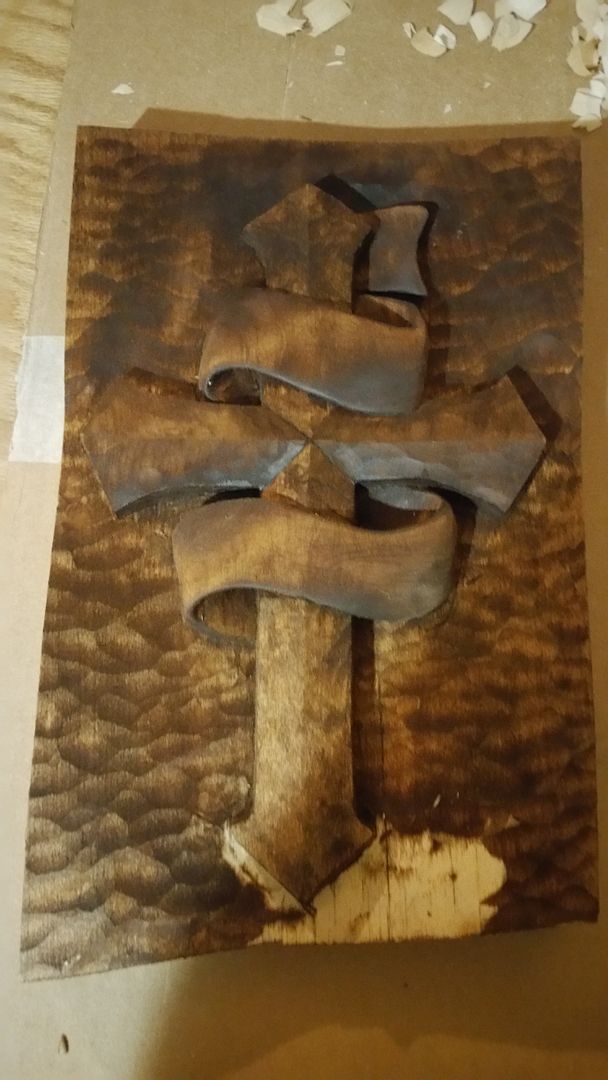 I have since learned that I should have sealed it first so it didn't soak up the stain quite so fast and that bass tends to stain blotchy. Guess I should have done more research on it. After some careful thought and a few more tears I THINK I have figured out a way to salvage the piece. I am going to carve off the stain on the background and leave it on the cross portion (I think it looks pretty cool there). That way it'll have a nice contrast between foreground and background. And the ribbon I am going to paint purple (traditionally the color of royalty and I believe what the cloth normally would be in a piece like this). Not what I envisioned when I started but it is what it is. Lemons and lemonade and all that.
Anway. Thanks for sticking with me in my long, drawn out first post. I look forward to being here and honing my skills in the hobby.