...Sharon Style!
I decided to try my hand at carving a fish fork like Sharon did
I have carved many a comb, but never with fiiiish...then I saw Sharons Koi/goldfish and was entranced! I just loved it! Been wanting to make one ever since...it's been a constant urge since I first saw it! Check out Sharon's - it is so beautiful!
So a friend of my dad's, way back when I was in pigtails, asked me if I could do a fish and some mermaids...I knew I could do mermaids, my favorite thing to carve, but a fish! Then I was so excited to actually have the opportunity to carve that FISH!!!
I got Sharon's permission i think the day she posted, to make my own. I did not want to take her original design, so it was a task to take to draw my own...I think I drew fish when I was little...maybe just outta pig tails
But i am thrilled to share this sketch with you! Wholda thunk it - Keoma can draw Koi's
This is my first atempt, my second and a self portrait of my seven year old...check out his heart
Thanks ya'll for lookin- I am so excited to finally make this comb!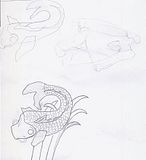 It will be carved in a medium relief...I will probably do the back as well, it always feels 1/2 assed when I don't. Then I will paint it in whites, golds, reds and a warm black stain over all. The sea grass will be a sagey green and of course, my paint will be food coloring with the stain being my coffee - See ya in about 3 hours!